Payroll Webinar, Webcast, & Audio Conference Calendar
Webcasts & Audio Conferences
Listed below are Payroll webinars, Payroll webcasts, and Payroll audio conferences to help with your Payroll training and Payroll sales training needs.

To see more details or to order a particular event, simply click the title and follow the appropriate directions therein; to see events for future months, click on the desired month.
Featured Events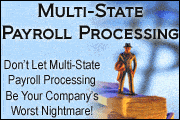 Multi-State Payroll Tax Compliance
9/30/2009 - 11/15/2018
By attending this audio conference you will learn taxation and reporting requirements as they pertain to employees working in more than one state.
Webinar, Webcast, & Audio Conference Calendar

Oct 18|Nov 18|Dec 18|Topic/State
Webinars are typically posted 90 days in advance. Please select either another month or use the search box below to find training.
Oct 18|Nov 18|Dec 18|Topic/State
Designations/Certifications
Improve your knowledge and industry standing!

Continuing Education
CE courses to maintain your license or designation!

Professional Development
Products & Services to help manage and grow your career!

Need training or resources in other areas? Try our other Training Center sites:
HR, Acct., Banking, Insurance, Fin. Svcs., Real Estate, Mortgage, HealthCare, Safety, Sales
Want Your Event Listed?

Contact us to have your product, services, or events listed.
The Payroll Training Center offers payroll webinars, payroll webcasts, and payroll audio conferences to help with your payroll training and payroll sales training needs.